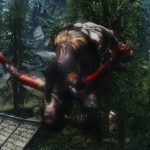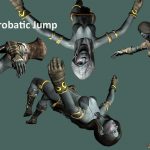 Momo Acrobatic Jump
---
Ever annoyed with same motion with jumping whether it's jumping forward or backward ? This mod simply add new animation for backward jump with more style. Latest version is v1.7
"Maybe it's not your taste but surely not too distracting or break the lore's immersion"
Ever annoyed with same motion with jumping whether it's jumping forward or backward ? This mod simply add new animation for backward jump with more style. Remember this one IS NOT REPLACER but will not work to any jump mod except Mirap's bowlegged jump animation Fix or "they' made theirs to compatible to mine, not vice versa. You're got confused because I say it's not animation replacer? Listen there are big difference between New Animation path and New Action of Event. Both of them are related to each other. If I Just replace it, forward jump is going to be the same as backward jump. There 4 directional Action of Event for directional jump in the game and 3 Directional motion…Huh?! yeah.. it's just three.. What did I do? I made it 4.
Still don't understand ? Please, don't bother bcoz of that. The problem is whether you like it or not… and I do love it.
If you want to use the animation only for your character use PC Exclusive Animation Path
INSTALLATION [EDIT]
Install Mirap Jump Fix For best transition. [optional]
1st- Download Fores New Idles (the newest version "ALWAYS needed")
2nd- Install Fores New Idles as instructed in his page (just drop it in your "data" folder and when/if asked to overwrite say yes "move and replace")
3rd- Install Momo Acrobatic Jump to the "data" folder in your Skyrim directory and when prompted to "combine folders" click yes, when asked to overwrite files click "move and replace" or just overwrite (depending on your windows version)
4th- Run the FNIS application named "GenerateFNIS_for_Users" located at "The Elder Scrolls V Skyrim\Data\tools\GenerateFNIS_for_Users"
5th- Click "Update FNISBehavior"
6th- Click "Behavior Consistency Check" to make sure there are no issues
That way, it will work. In My case of course
KNOWN ISSUES
backwardleft/right jump is kinda not blend well. I'll look into this one. Well, almost never use strafe jump since I have this game. The first time I did was to test this mod.
May not work with some mod that alter 0_master.hkx like FNIS or AP. I hope they allow me to add their work in my mod or they are releasing patch for this mod on their page. Whatever is good to me.
EDIT:
– Works for FNIS 2.0 or higher